Sunlight Home | Learning Center
< back
Sunlight Care provides care to many New Jersey Veterans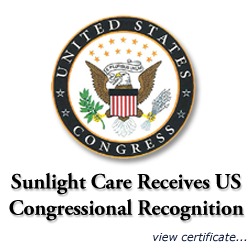 Sunlight Care is a Veterans Administration (VA) approved Provider of Home Care services to Home Bound Veterans. In this program the VA pays Sunlight Care directly for the Home Care Services. There is no cost to the Veteran and the Veteran is not involved in any billings or financial issues. This program typically provides two-hour visits once or twice a day for anywhere from 2 to 7 days a week. The VA sometimes also provides Respite visits. A Respite visit is a 6 hour visit that allows the family caregiver time away for Respite (a short period of rest or relief from something difficult). Families who receive Respite visits usually receive 30 of these 6-hour visits each year. This program does not provide care to a veteran's spouse or widowed spouse.

The Veteran 'Aid and Attendance' Benefit Program Veterans who served during wartime, have a non-service related disability and are unable to perform at least two activities of daily living may be eligible for this earned benefit program. This program is also available to surviving spouses of the Veteran. This program basically provides the Veteran a refund of their Medical expenses. Home Care is a medical expense. Generally, Veteran start Home Care services and after a month or so they submit an application to the VA for support from the Aid and Attendance program. Sunlight Care can provide some guidance and assistance in obtaining this benefit. It usually takes up to 8--12 months for a Veteran's application for Aid & Attendance to be approved but the VA typically provides these benefits retroactively to the date of the application. So it is important to apply as soon as possible after starting home care services. If a Veteran's application is approved by the Veterans Administration, the VA will cover much of the costs of the at-home Senior Care provided.

Requirements for the The Veteran 'Aid and Attendance' Benefit ProgramThe Veteran, alive or deceased, must have served ninety (90) consecutive days of active duty, with at least one (1) day during war time. The Veteran must also hold an Honorable Discharge status. A widowed spouse must have been:
Married to the Veteran at the time of the Veteran's death and never remarried;
Married to the Veteran for at least one (1) year or have had children by the Veteran; and
Living with the Veteran at the time of the Veteran's death, unless the separation was due to medical or military reasons.
Total combined household assets (excludes the primary home and car)'including stocks, bonds, CDs, IRAs, 401k, annuities, savings, checking, cash, cash value of whole life insurance policies, appraised value of business or second property 'cannot exceed a cap that is based on the age of the veteran or his widowed spouse and ranges from $10,000 to $40,000. Veterans must also satisfy the Veterans Affairs' 'Low Income' provision. Their net monthly income, after deducting certain medical expenses, must be low enough to meet the Veterans Affairs' criteria. Certification is required by the individual's doctor stating they are in need of New Jersey senior care assistance due to an existing medical condition (acute or chronic). Estimated Benefits Available for Veterans' Home Health Care in NJ
For a single Veteran the Veteran's Aid and Attendance benefit is enough to cover about 90 hours of home care each month.
For a Veteran and a spouse the program provides enough funding to to cover about 105 hours each month.
A Veteran's widowed spouse he program provides enough funding to to cover about 57 hours each month
If the Veteran had a service-related medical discharge, he or she may qualify under other Military Pension programs. Also note that guidelines change and may vary.
Contact Sunlight Care today to start your Home Care visits so you can qualify for the VA's Aid and Attendance benefit in NJ today.