Deep Breath, it's a process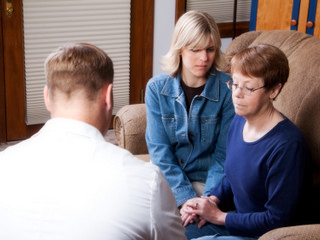 "It's become a bit difficult to understand dad sometimes; the words he uses don't always make sense with what he is trying to say."

"I just notice mom forgetting a good number of things lately..."

"Stan got lost coming home from the grocery store. He's been going to that same store for years."

Many believe that we are currently experiencing an unprecedented epidemic of dementia, Alzheimer's and other memory related diseases. And the truth is that there has been an incredible increase in the frequency of these diseases occurring, and not only in the elderly/older generations. Chances are high that many of your friends and acquaintances not only know someone in their family with memory issues, they may be the ones taking care of their loved one.
The first time you hear a doctor say "It could be MCI (mild cognitive impairment) or a precursor to it", when they are talking about someone in your family, you may feel your legs get shaky beneath your body. And while you may have found yourself on the beginning of a journey you never signed on for, there is some good news. There is still so much uncertainty and lack of knowledge about dementia related issues, and with our ever expanding medical communities expertise and experience, a cure could in fact be right around the corner.
But even if a cure is not to come for a while, your loved one's memory related issues could be the beginning of a long process (sometimes years, if not decades). And while more responsibility might be required of you, for their care, chances are that person will continue to bring you joy and happiness for sometime to come.
The best way to combat these types of diseases is through education and planning. We are here to help with both. So many of our clients start out with simple companion care for their loved one; someone to help with day-to-day chores, shopping, light cleaning. And over time should the person require more involved care, we can get you what you need. We want to be that friend that sticks with you, throughout this process.
While it is at times a difficult journey to accept, we want you to know that you are NOT alone.