Courier Post's Best of South Jersey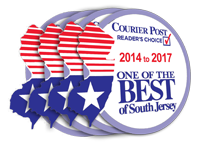 The Courier Post Readers' Choice Best of South Jersey awards celebrates the "best" and "one of the best" from attorneys to plumbers, and from play centers to restaurants.

Each year hundreds of business enter the contest in which its readers vote for the best and final winners!

Sunlight Care continues to win its category, year after year, since 2014.